LA GRANGE PRO DE LA MARDI GRAS I G. P. TRUMPET WithWARRANTY & ONE YEAR OF ACCESSORY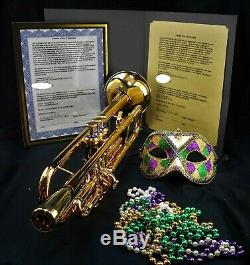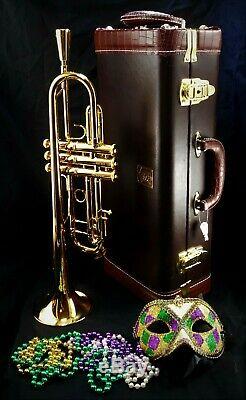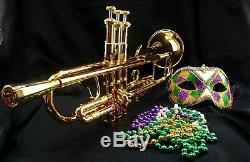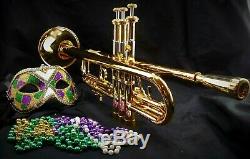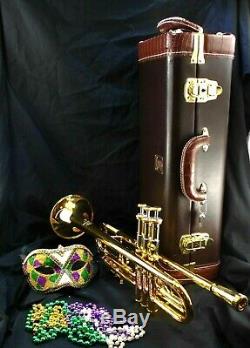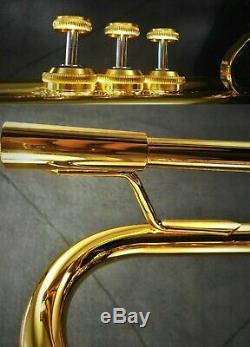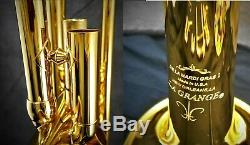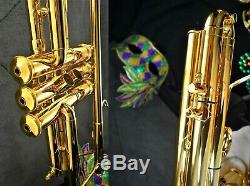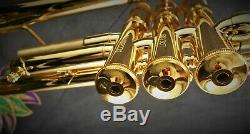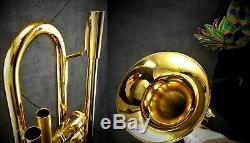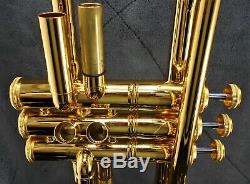 WE ARE THE BUILDERS OF THE LA GRANGE PRO TRUMPET. PLEASE COME INTO OUR STORE TO LOOK AT A FEW TRUMPETS BERNARD LA GRANGE JUST BUILT. IT IS OUR GRANDFATHERS MISSION TO BUILD PRO TRUMPETS THAT ARE AFFORDABLE SINCE 1964.
THESE TRUMPETS JUST CAME OUT OF PRODUCTION AND ARE ONLY A FEW WEEKS OLD. OUR COMPANY WILL TAKE CARE OF YOUR INSTRUMENT. WITH FREE SUPPLIES FOR THE FIRST YEAR.
YOU WILL NOT FIND THIS PACKAGE ANYWHERE ON THIS SITE OR ANY OTHER SITE, WHY SPEND 1500.00 DOLLARS ON A 10 YEAR OLD USED BACH WHEN YOU KNOW IT NEEDS REPAIR? INVEST IN A PRO TRUMPET THAT WILL LAST A LIFETIME. WE AT THE LA GRANGE PRO TRUMPETS BUILDS PERSONAL RELATIONSHIPS WITH OUR CUSTOMERS. What is that saying "always copied but never duplicated".
What we do here at the La Grange facility is. WHEN YOU HEAR A NEW NAME, BUT WE ARE NOT NE. PLEASE BE PATIENCE AND READ OUR FULL AD AND PUT US IN YOUR WATCH LIST. GIVE US A SHOUT IF YOU HAVE A QUESTION.
WE WILL LOVE TO TALK WITH YOU. (we don't have our website up yet).
MY GRANDFATHER AND MY FATHER NEVER ADVERTISED; JUST BY THE WORD OF MOUTH AND A HANDSHAKE. WITH ME TAKING OVER AT THE HELM; I WILL give this site a try, BUT ONE AT A TIME. IT TAKES US A 150 MAN HOURS JUST TO BUILD ONE TRUMPET. WE ONLY MAKE TRUMPETS TO ORDER AND NOTHING ELSE SO WE CAN CONCENTRATE ON ONE INSTRUMENT AND MAKE A PROFESSIONAL TRUMPET THAT IS AFFORDABLE AND UPPER FIRST CLASS SINCE 1964.
WE WILL HOLD YOUR FUNDS FOR 30 DAYS IF YOU ARE NOT SATISFIED. PLEASE SCROLL ALL THE WAY DOWN FOR MORE INFORMATION AND PICS.
Its pretty much impossible to come up with a comprehensive list of all the talented musicians who have called New Orleans a. The birthplace of jazz home over the years. Natives and transplants have been drawn to its music scene for centuries, and even those who arent musically inclined tend to fall in love with it. Who perform in a variety of genres ranging from jazz to funk to rock n roll and everything in between.
AS WAS MY GRANDFATHER BEING A MATHEMATICAL GENIUS (Bernard La Grange II). MUSICIAN, BLUEPRINT DRAWER AND PLAYED ALONG WITH. LOUIS ARMSTRONG, AL HIRT, PETE FOUNTAIN, FATS DOMINO, ALLEN TOUSSAINT , ARETHA FRANKILN, DR.
JOHN, ERNIE K-DOE, IRMA THOMAS, THROMBONE SHORTY, THE NEVILLE BROTHERS, KIERMIT RUFFINS, AND THE MARSALIS FAMILY (WHYNTON MARSALIS) THE LIST GOES ON.... WAY DOWN IN NEW ORLEANS.
HE CREATED AND DEVELOPED THE LA GRANGE DE LA MARDI GRAS. LINE OF UNEQUALLED UPPER FIRST CLASS TOP QUALITY TRUMPETS FOR 53 YEARS. GOOGLE "LAGRANGE POINTS" THIS IS my ANCESTRY (joseph-louis la grange). Our customer service is first class.
We built a personal relationship with our buyers. So what is on your mind.
La Grange pro trumpets LLC. Honest questions will receive honest answers. WE DON'T HAVE OUR WEB SITE BUILT YET, SO PLEASE.
BECAUSE I KNOW YOU NEVER HEARD OF US, PLEASE. BE PATIENCE AND READ EVERYTHING WE HAVE TO SAY ABOUT OUR TRUMPETS.
THIS IS OUR WEB SITE FOR NOW. What we do that no other trumpet company does is have the start of the production date stamped on the first valve casing. LR FOR REVERSE LEADPIPE, 11 for the month of NOVEMBER, 18 for the year, M FOR MATT FINISH, 1 FOR THE FIRST BATCH. YOU DO NOT HAVE TO GO TO A WEBSITE AND LOOK UP THE SERIAL NUMBER AND FIND OUT YOUR TRUMPET WAS ONE OF 80,000 MADE 2 YEARS AGO. IT IS RIGHT THERE ON THE FIRST VALVE CASING. YOU DON'T HAVE TO GO TO A WEBSITE AND LOOK UP THE SERIAL NUMBER AND FIND OUT YOUR TRUMPET WAS ONE OF 80,000 MADE 2 YEARS AGO. 10 FOR THE MONTH OF OCTOBER 19 FOR YEAR 1019 GP FOR GOLD PLATING 23 FOR THE 23RD ONE MDE WITH SATINLESS STEEL PISTONS AND S FOR STAINLESS STEEL VALVES. THIS TRUMPET IS ONLY A FEW WEEKS OLD. AS YOU CAN SEE BELOW; AFTER OR PORT AND POLISH WORK, OUR TRUMPET VALVES ARE UNTOUCHED AND WILL NEED TO BREAK IN AND THE VALVES WILL CREATE THEIR OWN UNIQUE MARKINGS; PLUS THE VALVE STEMS ARE POLISHED ALUMINUM. WE USE OVERSIZED COPPER SPRINGS FOR A SOLID AND SUPER FAST MOVEMENT. AS YOU CAN SEE BELOW. THE ONE ON THE LEFT IS WHAT THE REST OF THE OTHER TRUMPET MANUFACTURE USES. AS YOU CAN SEE THE ARROWS POINTING AT THE PORTS, WE HONE THE PORTS AND THEN POLISH THE PORTS. Port and polish work is a relatively simple process but tedious that I perform on the valves. First, the intake and/or exhaust inlets (ports) on the trumpet valve ports are enlarged using #0000stainless steel wool with a very high speed tool. This extra room helps the trumpet to draw extra air into and out of the cylinders, which means more power.
The enlargement of the inlets is what is referred to as porting. The next step I take, is polish work. The enlarged ports are then smoothed over using several grades of compounds. This removes flaws and/or obstructions from the surface of the ports, allowing air to flow more rapidly into and out of the cylinders.
This process is called polishing just like a high performance motor' "port and polish". I HAVE ARROWS POINTING AT THE PORTS. (our spring on the right has a little slide grease on it, this is normal) please scroll all the way down to see more informal photos.
WE ONLY MAKE TRUMPETS AND NOTHING ELSE SO WE CAN CONCENTRATE ON ONE INSTRUMENT AND MAKE A PROFESSIONAL TRUMPET THAT IS AFFORDABLE AND FIRST CLASS. FOR THE PAST 53 YEARS, OUR TRUMPETS ARE ONLY MADE TO ORDER THROUGH THE WORD OF MOUTH FOR THE. LOCAL ADVANCED TRUMPET PLAYERS RIGHT HERE IN THE BIRTH PLACE CITY OF JAZZ... AND THE ONLY TRUMPETS MADE IN NEW ORLEANS. TRUMPETS IN A PLACE WHERE JAZZ MARDI GRAS WAS BORN.
IT ALL UP IN ONE FINE TRUMPET BUNDLE. OUR VALVES ARE STANDARD DESIGN MADE FROM GOLD BRASS WITH OVERSIZED COPPER SPRINGS, PLASTIC VALVE GUIDES, YELLOW BRASS PORTS AND POLISHED ALUMINUM VALVE STEMS.
ALL OF OUR BRASS IS. Annealing, in metallurgy and materials science, is a heat treatment that alters the physical and sometimes chemical properties of a material to increase its ductility and reduce its hardness, making it more workable.
It involves heating a material to above its recrystallization temperature, maintaining a suitable temperature, and then cooling. AFTER WE BUILD THE PISTONS; WE THEN HAND HONE, PORT AND POLISH THE VALVES DOWN TO THE SMALLEST SPACE POSSIBLE BETWEEN THE VALVES AND VALVE CASING OF 0.002 MM PLEASE SEE ATTACHED. BORE SIZE IS MEDIUM-LARGE OF. A 2 PIECE NO SEAM GOLD BRASS BELL PLASMA WELDED WITH WIRE BEAD. THESE ARE GETTING POPULAR WITH THE HIGH SCHOOL KIDS BECAUSE OF THE EASE OF BLOWING AND THEY LOVEEM EVEN THOUGH THE ORIGINAL INTENT WAS THE BRACING-NOT AIR FLOW.
THIS HORN DESIGN WILL SIMPLY SELL FOR OVER 3200.00 DOLLARS. THERE IS NO SECRET ON KEEPING THE COST DOWN. OUR BRASS IS NOT IMPORTED!
ITS MADE RIGHT HERE IN. AND WE DO NOT EMPLOY HUNDREDS OF PEOPLE.
The size of the bell, which is also known as the flare, has a direct correlation to the type of sound produced. However, unlike the bore size where bigger means louder, the opposite actually applies to bell size.
For softer mellower sounds, a larger bell size will produce the desired tone. For a sharper, brighter sound a smaller bell size will do the job perfectly.
Once you find the right combination of bell and bore sizes to match your playing needs, you will be well on your way to wowing audiences with your perfect tone. WONDERING WHAT THAT LITTLE SYMBOL IS... It'S CALLED A "FLEUR-DE-LIS" MEANING THE. FLOWER THIS IS THE SYMBOL OF NEW ORLEANS AS SEEN ON THE NEW ORLEANS SAINTS FOOTBALL HELMET AND IS OUR REGISTERED. WRITTEN ON THE BELL : DE LA MARDI GRAS MADE IN NEW ORLEANS, LA. LA GRANGE IN ENGLISH MEANS "THE BARN". WHEN IT COMES TO COMFORT, POWER AND STYLE ON.
One of the most popular designs across the world and with the efficiency of technology mainstream, WE refined it so that it can be played on an everyday basis. YOU CAN HEAR THE COMPRESSION BUILDING UP WHEN YOU MOVE THE F-STOP AND FIRST VALVE. AND BACK, THEN HEAR THAT POP THROUGH THE BELL! Mission was and still IS to remain true to the original classical design of providing first-class luxury trumpets that gives the player hefty doses of upscale finish, fit, class and premium style and kept the price down by using American standard 70/30 yellow brass manufactured right here in new Orleans and only housing 3 employees.
We continue to pursue increased personalized trumpets with value and quality throughout my great grandfathers'. Our La Grange De La Mardi Gras I is the premier trumpet that retains and refines all its predecessors. Indeed we combined and wrapped up everything into one very sincere trumpet package so the benefits are tailored to suit the owners pocket book and taste.
This premier La Grange trumpets retains and refines all its custom features proving why it remains the flagship of all classic design fleet for many reasons. The De La Grange stands out by flaunting an impeccable design, Flaunting smooth styling and a plethora of luxury features. Read on to find out what you need to know about the La Grange trumpet lineup. This setup is available and. Allows you to choose from THE 4 different color valve cap felts your choice (all included).
The valve cap felt option will give you an experience that no other trumpet maker can provide-- exhilarating to look at and play, This La Grange De La Mardi Gras is sleek, bold, boasting and absolutely beautiful. WITH A 2 piece no seem plasma welded professional YELLOE BRASS bell THAT produces a bright warm sound with great projection allowing this instrument to work well in multiple musical settingsfrom jazz to concert or solo playing. These features combined with a.
122mm BELL, and a heavy mouthpiece receiver will allow the player to produce a well-rounded sound well suited for all types of music. We did have to handle the trumpet when we took these photo's; there will be a finger print on it somewhere. Plus we are building an LR gold plated de la Mardi II, THIS ONE BELOW IS OUR "DE LA MARDI GRAS 1". THE LEAD PIPE AND ITS FUNCTION.
The lead pipe is the section of tubing that runs from the mouthpiece receiver past the valve casing to the first tuning slide (the first curve). It is usually around 8 inches in length.
The lead pipe tapers very gradually, starting slightly narrower at the mouthpiece end and increasing in diameter. The purpose of the taper of the lead pipe is to help with control of airflow and intonation (accuracy of pitch). The taper allows the trumpet player to have better control over the air as it is forced through the instrument. AS YOU'VE SEEN ABOVE; THE TRUMPET PISTONS ARE UNTOUCHED AND WILL NEED TO BREAK IN AND THE VALVES WILL CREATE THEIR OWN UNIQUE MARKINGS; PLUS THE VALVE STEMS ARE POLISHED ALUMINUM. STAINLESS STEEL is now the.
For professional instruments and contains 18% chrome and 8% nickel. At the La Grange facility, we've always used stainless and nothing else. Like the Monel it is a solid material so.
Plating flake is not a concern. And makes it preferable for. Of the overall brass tubing.
Being a harder alloy it also allows for finer / tighter tolerances within the casing which in turn can improve intonation. It is worth pointing out though that wear on stainless steel (and Monel) valves doesnt show in the way it does on nickel plated valves. All valves wear to some degree. But there is obviously no plating to wear off on non-plated valves so wear is not always as obvious to the naked eye.
I would guess that if you took a poll of brass players and asked them to choose a material they felt would give them a hassle free playing experience the majority would choose stainless steel. MODEL: DE LA MARDI GRAS I. TECH SPECIFICATIONS: 18K GOLD PLATED.
122 MM 2 PIECE YELLOW BRASS BELL. WITH WIRE BEAD SATIANLESS STEEL PORT AND PLISHED VALVES. Machined Polished aluminum valve stems.
Standard design Gold brass port and polished. STAINLESS STEEL valves with oversized copper springs with yellow brass ports.
The pistons will need to break in..... Creating their own unique markings. One water spicket (MAIN TUNING SLIDE). F-stop silver plated rod stop with 2 gaskets, 1 rubber donuts and 2 lock nuts. First valve slide saddle with 2 rubber gasket.
OUR MOUTHPIECES ARE MADE FROM ASINGLE BRASS BLOCK IN 3C. WE DO NOT PLATE OUR MOUTHPIECES SO THE PLAYER WILL HAVE A BETTER FEEL. Brass trumpet or instrument, you will probably see products described as having a "gold brass bell" or a "red brass lead pipe" but what difference does the brass alloy actually make? There is no doubt that the differences are subtle and for all but the most advanced players arguably irrelevant.
You need to be a competent player that produces a good basic tone on your instrument for any difference to be noticeable. Putting that aside though, if you are interested in finding out a bit more and I appreciate its not a particularly interesting topic! Then heres some basic guidance. Putting that aside though, if you are interested in finding out a bit more; then heres some basic guidance. Brass is used for manufacturing musical instruments as it is a malleable metal with excellent acoustic properties.
It is primarily made up of copper and zinc and the proportions in which these are used affects the type of brass alloy produced. Generally, the softer the material the softer warmer and darker the sound produced: harder metal gives a brighter and more responsive sound. There are generally 3 main types of brass alloy used in musical instrument manufacture today.
The industry standard, if an instrument spec doesnt specify then you can fairly confidently assume its yellow brass. A very resonant alloy (70% copper) which produces a bright and direct tone that cuts through making it perfect for those trumpet fanfares. As the name implies, gold brass has a slightly darker color due to the higher copper content (85% copper) within the alloy. This gives the instrument a broader, fuller tone whilst still retaining a good level of projection. Red Brass 10% zinc 90% copper.
Also known as rose brass, this has the highest copper content at around 90% copper. It gives a warmer and mellower tone but doesnt project as well as alloys with higher zinc content as it is a softer metal. It is often used for the lead pipe (the main tube nearest to the mouthpiece) of student instruments as it helps to prevent red rot corrosion caused by the buildup of acidic dirt/saliva inside the tubing.
This is for another time. Where is a different brass alloy used?
Manufacturers vary in their choice with some using their same brass alloy for an entire instrument and others changing it for certain components. The main place for a different type of brass to be used is typically the Bell section as this has by far the most influence on the overall sound produced. The lead pipe of an instrument also occasionally has a different brass from the main body of the instrument. You will sometimes see other components manufactured in different materials, sometimes nickle silver is used on trombone slide legs or tuning slides and there are even instruments with sterling silver bells. Thats for discussion on another day though!
There are many other factors that influence the sound of the instrument, from bore size and bell flair to the thickness of brass used. I hope this brief look at brass alloys though will help you understand that particular component of instrument manufacture. My grandfather wanted to build a professional level trumpet so the high school students and parents can afford and let this horn bring them into college and adulthood without spending thousands of dollars. Yes he did build the most popular design and did it well by keeping the cost down by not importing his brass and only use local brass and then take the savings to use stainless steel. Using the old tools of yesterday and not having the expense of the machines and employees to pay for. Only housing 3 employees and BUILT to order. This professional level La Grange de la mardi gras Trumpet has stood the test of time. As other models have come and gone the La Grange has remained. In a striking gold brushed matt lacquer finish.
Fantastic all round playing - coupled with even intonation and response. Why spend 2000.00 on a used horn and up to 3500.00 on a new one and those only come with a mouthpiece and valve oil. Here, we sell the whole kit. HERE; YOU ARE GETTING THE WHOLE PACKAGE!
WHEN YOU CHANGE THE VALVE CASING CAPS, PLEASE USE CAUTION AND PATIENCE. THE FELTS ARE NOT GLUED IN SO YOU CAN CHANGE COLORS AS YOU GO. This handsome wood shell single trumpet case provides excellent protection for your trumpet.
Includes 2 bores for two mouthpieces, Outside are two lockable metal draw latches, and two padded handles. A 145.00 DOLLAR VALUE. IF THE PROBLEM WAS FROM CRAFTSMANSHIP, WE WILL PAY FOR THE REPAIR.
IF YOU WANT TO RETURN THE TRUMPET, PLEASE RETURN THE HORN IN THE EXACT WAY YOU RECEIVED IT. NO FINGERPRINTS OR DENTS, DINGS, ETC. THERE ARE 2 WHITE GLOVES; PLEASE USE ONE PAIR TO TRY THE TRUMPET OUT AND IF YOU WANT TO RETURN THE TRUMPET, YOU CAN KEEP ONE PAIR OF GLOVES. "LAGRANGE PRO TRUMPETS SINCE 1964". LA GRANGE PRO TRUMPETS LLC. The item "LA GRANGE PRO DE LA MARDI GRAS I G. TRUMPET WithWARRANTY & ONE YEAR OF ACCESSORY" is in sale since Friday, August 16, 2019. This item is in the category "Musical Instruments & Gear\Brass\Trumpets". The seller is "flower-of-the-french-court-1710" and is located in New Orleans, Louisiana.
This item can be shipped to United States, Canada, United Kingdom, Denmark, Romania, Slovakia, Bulgaria, Czech republic, Finland, Hungary, Latvia, Lithuania, Malta, Estonia, Greece, Portugal, Cyprus, Slovenia, Sweden, Belgium, France, Ireland, Netherlands, Poland, Spain, Italy, Germany, Austria, Bahamas, Mexico, Switzerland, Norway, Ukraine, Croatia, Brazil, Chile, Colombia, Panama, Jamaica, Barbados, Bermuda, Bolivia, Ecuador, French guiana, Guernsey, Gibraltar, Guadeloupe, Iceland, Jersey, Cayman islands, Liechtenstein, Luxembourg, Monaco, Martinique, Nicaragua, Peru, Paraguay, Uruguay.
Key: Bb
Model: DE LA MARDI GRAS I
Bell Diameter: .122MM
Country/Region of Manufacture: United States
Custom Bundle: Yes
Valve Material: Stainless Steel
Valves Type: Piston
Bell Material: Yellow Brass
Type: ALL AROUND
Color: GOLD
MPN: 679738
Finish: Gold Plated
Finish Material: Yellow Brass
Bore Size: .

459

Brand: LA GRANGE PRO DE LA MARDI GRAS I
Skill Level: Professional
Bundle Description: CLEANING SNAKE, LEADPIPE & MOUTHPIECE BRUSH,3 POLISHING CLOTHS 2 EACH RED, BLUE, ORANGE & BLACK CAP FELTS 2 BOTTLES BLUE JUICE VALVE OIL BACH SLIDE GREASE PROTECH VALVE CASING COVER
Leadpipe Material: YELLOW BRASS