Liquid Rubber EPDM RV Roof Coating 4 Gal 15 Year Guarantee One Part, No Mixing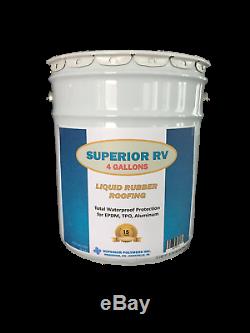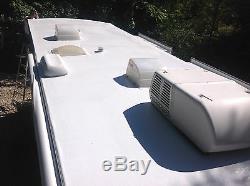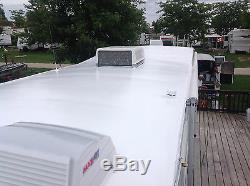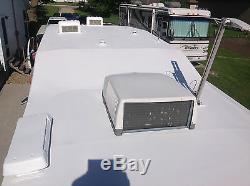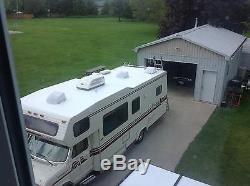 Please read the following information carefully to make sure this product is compatible with your RV. This listing is for 4 gallons of Superior RV Liquid Rubber, TPE (thermoplastic elastomer) Roofing. This product is NOT an acrylic or water-based coating that constantly requires re-application. Superior RV is a thermoplastic liquid rubber that forms a permanent, seamless replacement membrane, similar to EPDM, over your existing roof.
It handles like a heavy enamel and self-levels to a heat reflective, shiny surface. It does not wash away, chalk or discolor over time because it is not a paint, but rather a synthetic rubber barrier. The new surface is almost indestructible and totally resistant to uv rays, standing water, ice, hail, and abrasion.
The product is tougher than most original rubber membranes and is backed by a 15 Year Product Guarantee. Superior RV is a one part coating, based on new styrenic, thermoplastic, block copolymer technology.
The product requires no catalyst or tape, and provides total RV roof restoration for tpo, epdm, fiberglass, plywood, vinyl and aluminum. 4 gallons will complete 158 square feet of roof (including two coats) or up to a 19 foot camper roof. Application instructions are at the bottom of this page. We want you to achieve the best possible results with your roof restoration project!
See below for savings on larger quantities! The Strongest RV Roof Coating Anywhere! One Part - No Catalyst, No Mixing.
Withstands Ponding Water, Snow, Ice, Hail, and Intense Sunlight. Prevents Leaks & Premature Aging. Incredible Adhesion to TPO, EPDM, Aluminum & Fiberglass.
Resists Hail Impact & Dirt Pick-up. Bright White, Heat Reflective Finish (90% reflective).
Rain will not harm uncured product. A Few Words From Our Happy Customers. The day we decided to apply your Superior RV product to our motorhome roof, the weather changed suddenly, and it rained on the uncured coating. We were so relieved to discover that the rain had absolutely no effect on the coating. We waited until the water dried up and applied the second coat.
Job completed and it looks fabulous. Thank you for making such a user-friendly product. Elsie & Gerald Stone - Antioch TN. We bought a used camper with an early TPO roof that was showing signs of severe weathering. We tried several coatings and they all peeled off. Yours did not, and we didnt need a primer - kudos to you guys for a great product! Bill Stanton - Brownsville TX. This is a tough coating, but easy to apply. My old rubber roof looks like new again and my camper is finally dry!
Jeff Panelli - Wisconsin Dells WI. We made it a weekend project and I must say the results were better than expected. Our coach roof looks like it did when we bought it new. Marg & Bill Kominski - Nampa ID. We will recommend this to other campers in our travels.
B & L Walters - Oakland CA. Precautions: Do not apply this coating directly to Alpha Brand EPDM roof membranes or pre-existing coatings.
Without applying Superior Flexible Epoxy Primer first. If you are not sure if your roof is an Alpha Brand EPDM roof, use the primer kit, as it works well on all epdm roofs and you will avoid bubbles, swelling and/or distortion on the rubber.
For your convenience, we offer complete kits with the primer included for various length RVs below. Complete Alpha kit for up to 20 ft rv.
Complete Alpha kit for 21 to 30 ft rv. Complete Alpha kit for 31 to 40 ft rv. Complete Alpha kit for 41 to 48 ft rv.
Preparation for all surfaces except fiberglass and vinyl. Using laundry detergent and warm water, scrub or pressure wash roof and remove as much surface dirt as possible. Remove all silicone, loose caulking and any coatings that are peeling. Flush with clean water and allow to dry. If surface is shiny, sand with 100 grit sand paper until gloss is removed. Wash thoroughly using above method.
Application - EPDM and TPO rubber roof membrane. CAUTION: DO NOT APPLY A HEAVY FIRST COAT ON EPDM ROOFS, OR THE RUBBER WILL DISTORT, BUBBLE AND WRINKLE. Using a brush, apply a light coat of Superior RV to fill all seams, depressions and around all objects protruding through roof vents, skylights, pipes, etc. , and any areas that cannot be accessed with roller.
If your roof has rounded edges, apply a light coat using a brush to the vertical portion and the rounded edge, all around your roof perimeter. Allow to dry three hours.
Do not pour this coating on an epdm roof. Work from a paint tray as follows: Apply ONE THIN COAT to entire roof surface using a ¼ fleece roller and spread out the coating as thin as you can by pressing firmly, so it just covers the surface. Allow to dry at least 48 hours.
After at least 48 hours, apply finish coat using a roller with a ½ to ¾ fleece. Application - Fiberglass, Vinyl & Aluminum (Do not use this method for EPDM). Using a brush, apply a coat of Superior RV to all seams, depressions and around all objects protruding through roof vents, skylights, pipes, etc. , and any areas that cannot be reached with roller.
Allow to dry at least 3 hours. Pour Superior RV directly onto the roof surface and spread out with a long nap roller. Remember that Superior RV is a coating, not a paint, so it must be applied liberally to form a protective membrane. Wait at least 24 hours before applying a second coat. Note: If you are unable to complete the second coat because of time constraints or inclement weather, the second coat can be applied at any time after the first coat has cured. As dry plywood is very absorbent, plan on using 15 to 20% more material than you would for regular roof surfaces. Apply first coat and imbed Superior Spunlace Fabric into the coating at over all seams and joints. Pay special attention to coating the perimeter of all objects that protrude through the roof vents, pipes, a/c units etc. As these are big potential leak areas. Force coating into joints and crevices with a brush.
Make sure fabric is well coated and allow 36 hours for complete cure before adding more coating. Apply a second, heavier coat over entire surface.
The item "Liquid Rubber EPDM RV Roof Coating 4 Gal 15 Year Guarantee One Part, No Mixing" is in sale since Thursday, October 5, 2017. This item is in the category "eBay Motors\Parts & Accessories\RV, Trailer & Camper Parts\Exterior". The seller is "dura500" and is located in Cincinnati, Ohio. This item can be shipped to United States.
Country/Region of Manufacture: Canada
Exterior Part Type: Roof Coating
Manufacturer Part Number: 4108.4
Brand: Superior RV
Warranty: Yes