Macbook Pro Gpu Reballing Repair Service 2009-2016, One Year Warranty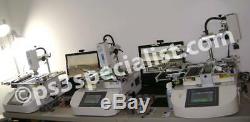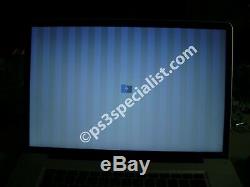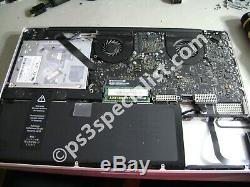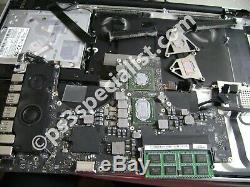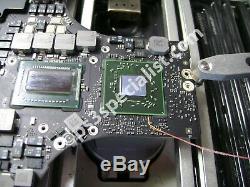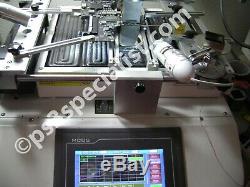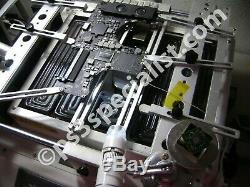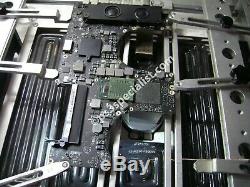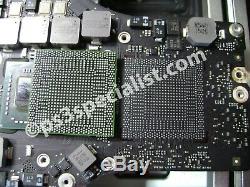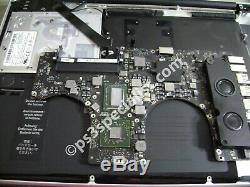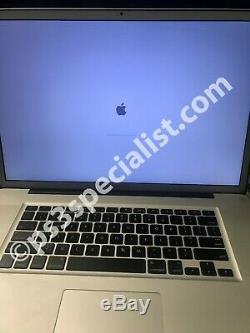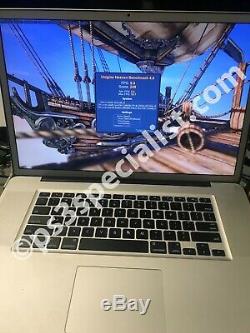 THIS SERVICE WILL FIX ALL GRAPHICS ISSUES RELATED TO MACBOOK GRAPHICS CARD. THIS IS A SPECIALITY REPAIR AND IS NOT AVAILABLE AT LOCAL REPAIR SHOPS AND IF OFFERED IF TRUE WILL NOT BE OF THE SAME QUALITY OR RATE OF SUCCESS.
2009 - 2012 MacBook Pro are still the best laptop computers for their owners and for a lot of people, specially the 2011 model , it was the last Apple MacBook model that you can upgrade the memory and hard drive on it, has a built in DVD writer drive which also a lot of people were able to use a special enclosure to replace it and install a second hard drive instead, You can not do any of that with the newer models starting with the 2012 models. Unfortunately they are all suffering graphics issue and they got a lot famous for that , Apple offered a free repair program that ended in Dec. 2016 and now Apple is no longer offer service for these models. We are here to fill that demand from these MacBook owners for a reliable and reasonable in price repair service for such valuable computers. We designed this repair service to be the best professional long lasting repair you can find, we only repair MacBook by reballing, reflow is a temporary fix and we dont use it at all. LEARN MORE ABOUT MACBOOK GRAPHICS FAILURE AND THE REALITY OF WHETHER REBALLING THE GRAPHICS CHIP WITHOUT REPLACING IT IS ENOUGH TO FIX THE ISSUE AT OUR BLOG POST BY CLICKING ON THE FOLLWOING LINK. WHERE YOU WILL SEE PROVING PICTURES OF THE FAILURE REASON. The pictures you see are real pictures for the repair procedure (Reballing) of real broken MacBook , its a repair photo story that show you the entire repair process step by step from start to finish and you can see pictures for more models repair procedure on our Facebook page at.
You can also read our customers reviews. Which are actual testimonial from so many people who send us their MacBook for repair and also from so many people we allowed to bring their MacBook in and watch the reballing procedure and take their computers home the same day and you can do the same also if we are close enough to you, 50 reviews can not lie.
THE WORLD'S BEST MACBOOK DISCRETE GRAPHICS CHIP REBALLING FOR 15" AND 17" 2011 MODELS FOR OVER EIGHT YEARS , WE REBALL GPU, CPU, SOUTHBRIDGE CHIPS AND WE REPLACE SCREEN CONNECTOR AND KEYBOARD CONNECTORS WHEN NEEDED, A REPAIR NO BODY ELSE CAN DO , HUNDREDS OF DEAD MACBOOKS HAVE BEEN REPAIRED , LET US FIX YOURS. OUR CUSTOMERS REVIEWS AND REPAIR PICTURES ARE REAL AND DON'T LIE. Why you should choose US to repair your Laptop and not anybody else? Known to be the world's best in MacBook logic board graphics repair.
The top of the line highest quality computer controlled machines and equipment. A specialized scientists not just a repair technicians. Many people were allowed to watch their MacBook logic boards getting reballed in front of their eyes so you can trust that you will really get a reballing and not anything else.
No try and error, perfection from first time and the system will be reballed, up and running within minutes "less than it takes others to do a temporary repair that might work and might not and they call it reflow and its in our evaluation of its results is not a repair at all or in any way". We are perfectly capable of reballing the CPU and GPU or any onboard chip using leaded or lead free solder. Proved reputation by tens of reviews from real people many of them have watched their logic boards getting reballed. Faster one day rush repair is available at an extra cost for people who needs it to be done fast.
This service will cover the following symptoms for all models and years of Macbook PRO. Weird colored screen grey, green, blue, pink etc.. Scrambled or pixelated screen (including lines, batches). Divided split screen (2 screens up to 12 split screens). Screen backlight is on but screen stays black.
Computer turns on but get stuck at grey or blue screen or freezes at start up. Computer starts but always show an error message your computer turned off because of a problem... Turns on then shuts off immediately. Turns on and look like its going to work but will not load the operating system. Turns on, black screen and keeps restarting by itself or turns on and the screen stays back with or without chime sound.
White or grey screen sometimes with horizontal lines. Can't load graphics driver, can only run in VGA mode. Screen resolution is too low and you are not able to adjust it to higher resolution. Graphics card type doesnt show up in device manager. Picture will show up when you connect the laptop to an external monitor but not on its own screen. Here we offer the repair service of your broken laptop at a flat rate repair for any of these problems; this service will include the following.
Laptop disassembly and extracting the mainboard for rework and GPU chip reballing. Completely detach the laptop graphics processor from the motherboard applies to all kind of graphics chip including NVIDIA or ATI, completely removing the old solder that started to crack and cause bad soldering points, clean the chip and refresh all cold points on it, same procedure will be done to the motherboard, the GPU will be Reballed using LEADFREE solder which is environmentally friendly, safe and long lasting, then it will be reattached in place to the motherboard again (There is a lot of misleading information about leaded solder and claims that leaded solder is a better quality, our experience with hundreds of this repair is that reballing the graphics chip using leaded solder will only last for about six months and that is why we use leadfree solder, it proved to last in most cases for about two years and that is why we are using it in this particular repair in spite of the cheaper price of leaded solder and its more easy to use in the process due to its lower melting point which makes the reballing process much easier). Complete reassembly of the laptop and testing it thoroughly to make the sure the problem is resolved. This procedure is very complicated, very professional and we won't be able to perform it unless we are using TOP OF THE LINE MACHINES WITH THE LATEST AVAILABLE TECHNOLOGY AND FULLY COMPUTER CONTORLLED PROCESS FOR MAXIMUM ACCURACY AND BEST RESULTS, with this procedure your laptop should run for many years trouble free. In very rare cases (less than 1%) the GPU chip will need to be replaced and in this case the replacement chip cost will be extra.
IMPORTANT NOT: WE CAN REPLACE ANY DAMAGED PORTS LIKE SCREEN PORT (WHERE THE SCREEN CONNECTOR GOES ON THE MOTHERBOARD) AND ANY OTHER DAMAGED CONNECTOR OR COMPONENT (YOU WILL NEED TO SEND PICTURE FOR AN ESTIMATE REPAIR COST). After more than Eight years in the field of game systems and laptop and desktop computer repairs and upgrades there is no system that cannot be repaired unless it is electronically dead system which will require replacing the systems main board, we provide a FULL ONE YEAR. On any reballing repair service for MacBook starts the day you receive your system back. BECAUSE EXPERIENCE COMBINED BY TOP OF THE LINE TECHNOLOGY MAKES THE DIFFERENCE.
MACHINES WITH THEIR IMPORTANCE ARE JUST TOOLS TO HELP PERFORM THE REPAIR, WITH MACHINES WE NEED THE KNOWLEDGE AND THE SKILLS WHICH MAKE ALL THE DIFFERENCE IN THE QUALITY OF REPAIR , THE SAME MACHINE THAT REPAIRS CAN PERMENANTLY KILL AND DAMAGE IF USED WITHOUT KNWOLEDGE AND SKILLS. We offer replacement logic board if necessary at an extra cost when the computer owner agrees and in this case the full service cost will be used toward the replacement logic board. YOU DON'T NEED TO BACKUP YOUR DATA BEFORE YOU SEND THE COMPUTER IN FOR REPAIR, WE DON'T USE YOUR HARD DRIVE FOR TESTING , YOU CAN EVEN KEEP THE HARD DRIVE AND SEND THE COMPUTER WITHOUT IT IF YOU PREFER TO DO THAT, FOR OUR CLIENTS THAT BRING THEIR COMPUTERS FOR REPAIR THEMSELVES AND WATCH THE REPAIR PROCESS YOU CAN KEEP YOUR HARD DRIVE INSIDE THE COMPUTER , WE WILL LET YOU TEST YOUR COMPUTER USING YOUR HARD DRIVE SINCE YOU WILL BE PRESENT AND HAVE THE PASSWORD TO LOG IN TO YOUR ACCOUNT AND BE ABLE TO TEST THE MACHINE.
The item "MACBOOK PRO GPU REBALLING REPAIR SERVICE 2009-2016, ONE YEAR WARRANTY" is in sale since Saturday, May 25, 2019. This item is in the category "Computers/Tablets & Networking\Laptops & Netbooks\Apple Laptops". The seller is "hi_tech_repair" and is located in Rancho Cucamonga, California.
This item can be shipped to United States.
MPN: Does Not Apply
Brand: Apple