Playstation 3 Reballing Service, Leaded Solder, One Year Warranty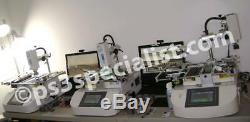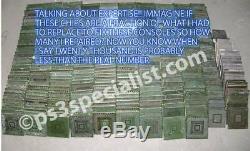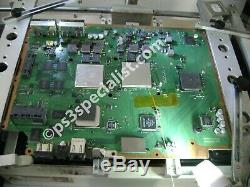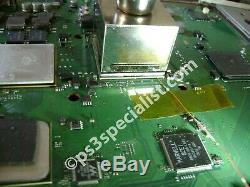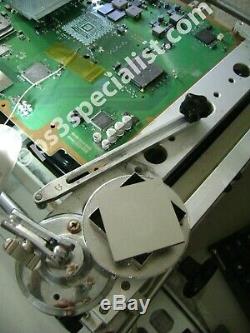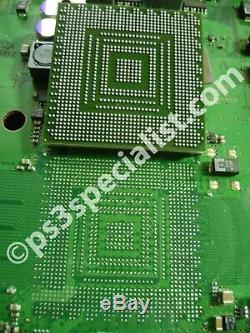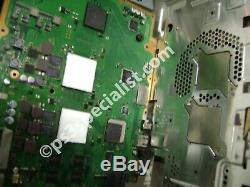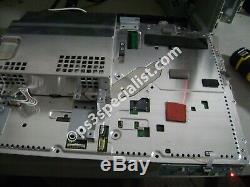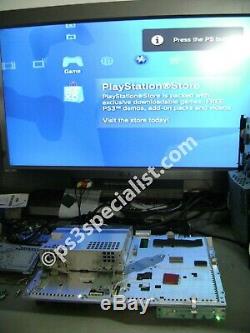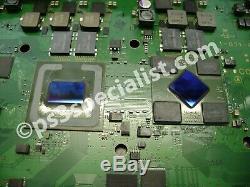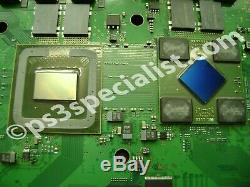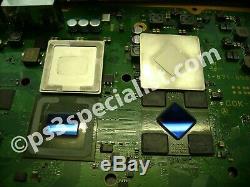 CURRENT PRICE IS FOR A LIMITED TIME AND WILL END AT ANY TIME. THIS IS THE BEST PLAYSTATION 3 REPAIR SERVICE ON THE PLANET FOR TEN YEARS, LOOK NO FURTHER, ITS SIMPLE US OR NO BODY ELSE. We have been the world's number one and the most famous repair service provider using Reballing technique for PlayStation 3 consoles for over ten years and during all these years and more than a hundred thousand consoles serviced by us we have never scene a single repair that has come even slightly close to our quality of repair and we repair a lot of previously repaired consoles and consoles that have been through failed repair attempts at least once and usually more than once. OUR PICTURES SPEAKS ABOUT US VERY LOUDLY AND THE FOLLOWING PICTURE SHOWS MORE THAN A THOUSAND PLAYSTATION 3 GRAPHICS CHIP AND THESE ARE JUST FEW OF THE GRAPHICS CHIPS WE HAVE REPLACED BECAUSE THEY WERE DEAD AFTER THEY WERE EXPOSED TO A HEAT GUN OR OTHER HEATING MACHINE BY THEIR OWNERS OR OTHER REPAIR SHOPS USING THE FAMOUS DAMAGING YOUTUBE VIDEOS FOR PS3 REPAIR THAT TELL PEOPLE TO DO THAT AND CAUSED PROBABLY MILLIONS OF THESE CONSOLES TO GET DAMAGED BEYOND REPAIR, WE WERE ABLE TO FIX THE MAJORITY OF THEM AFTER REPLACING THE DEAD GRAPHICS CHIPS WHICH IS NOT POSSIBLE WITHOUT REBALLING UNLESS THE CPU WAS ALSO KILLED BY THE HEAT GUN, CPU CAN NOT BE REPLACED AND SHOULD NEVER BE HEATED. The pictures you see are real pictures of the repair process not professionally edited pictures and we use these pictures in purpose so you can see how in reality your console will be repaired , people who have attended the repair process of their consoles at our facility have scene the process in reality, we want you as well to see that as close as possible.
DO YOU WONDER WHY YOUR CONSOLE BROKE ON YOU? DID YOU ASK WHY REFLOW DOESN'T WORK AND IF YOUR CONSOLE IS STILL REPAIRABLE? CHECK OUT THE NEXT SET OF PICTURES, IT WILL SHOW YOU HOW BAD IT CAN GET AND STILL BE REPAIRABLE BY USING THE REBALLING TECHNIQUE, IT WILL ALSO EXPLAIN TO YOU WHY REFLOW IS NOT A REPAIR AND WHY IT DOESN'T WORK AND WHY REBALLING IS NECESSARY IN ORDER TO REALLY GET A PERMENENT LONG TERM REPAIR. ONE PICTURE WORTH A THOUSAND WORD.
THIS IS A SPECIALITY REPAIR AND IS NOT AVAILABLE AT LOCAL REPAIR SHOPS AND IF OFFERED IF TRUE WILL NOT BE OF THE SAME QUALITY OR RATE OF SUCCESS. LET US START BY SAYING THAT WE WILL FIX YOUR PS3 NO MATTER WHAT IS THE PROBLEM IS EVEN IF YOU HEARED FROM MANY REPAIR TECHNICIANS THAT IT IS UNREPAIRABLE, THEY BUILD THEIR OPINION ACCORDING TO THEIR KNOWLEDGE, CAPABILITIES AND SKILLS NOT OURS!! WE HAVE THREE REPAIR SERVICES FOR PS3 DEPENDS ON THE EXTENT OF THE DAMAGE BUT THIS ONE IS THE MOST COMMON AND MOST NEEDED SERVICE FOR THE YLOD, RLOD, GLOD, FREEZING, GLITCHES AND PIXILATION WITH THE OPTION TO ADD THE OVERHEATING AND LOUD FAN REPAIR. We have allowed so many of our local customers to watch their consoles getting the reballing service and take their consoles home fully working the same day so their reviews can assure everybody else that you are really getting a reballing and not like many other websites that claim to do reballing when they only do what they call a reflow using a heat gun or any other cheap heating machine. That means if you really want reballing then you are at the only place that grantee will do it for you. Our PlayStation 3 Reballing service is the world's most famous repair service for PlayStation3 for the last ten years. We are very proud of being the first ever to offer a real and high quality Reballing service for PlayStation 3 and we have successfully repaired over one hundred thousand PlayStation 3 console using the reballing procedure over the last ten years most of them are still alive and running until this day. No other place in the world has repaired more PlayStation 3 consoles by Reballing or will ever be able to match our repair speed or quality of repair. To know that you are at the right place if you are looking for the real and the top quality Reballing process for your PlayStation 3. We have designed this repair procedure to be a real remanufacturing process of the console's most failing component which is the RSX chip or the graphics chip. Here are the issues covered by this service. The famous YLOD yellow light of death. System is flashing red light. System does not display any video or have any other video problem like scrambled video or freezing. System starts normally but shuts down after 5 to 15 minutes. System is not displaying video through HDMI port. PS3 blueray drive controller board Replacement (the original controller board has to be included and never tampered with).
PS3 is not injecting or ejecting discs. The system is not playing games even with the disc spinning but play the regular DVD movies or vise versa. System turns on but doesn't start and the screen stays black even if the TV detects the signal. None of the USB ports is working and you are not able to synchronize your controller. System is not reading any discs.
Your console is working just fine but every time you turn it off it beeps three times and the red light stay flashing. If your console fan is running at high speed causing a loud fan noise that is a sign of overheating, we have a real fix for that so just add the CPU overheating to your order and you will be surprised by how cool and quite we will make your console runs. Broken connectors like data cable connector on the motherboard or the power supply connector, yes I replace these plastic connectors on the motherboard if neccessary, I know it sounds very hard to be done. Replacing any damaged port like AV port , USB ports and HDMI port.
If the console doesn't produce video through HDMI this service will also fix that even if the HDMI port itself is not damaged. We now fix PS3 slim model 2501 and 3001 that shuts down and the power button turns completely off within few seconds of turning it on.
IN THE WORST CASE WE WILL BE THE ONLY PLACE ON EARTH WHO CAN REPLACE YOUR ENTIRE MOTHERBOARD AND KEEP YOUR FIRMWARE AND ALL YOUR DATA INTACT LIKE NOTHING EVER HAPPENED TO IT BY OUR FULL MOTHERBOARD TRANSPLANT (CHECK IT OUT IN OUR OTHER ITEMS). WHEN EVERYBODY ELSE FAIL WE WILL BE THE ONE WHO FIX IT IF THERE IS NO PHYSICAL DAMAGE TO THE ONBOARD CHIPS BY OUR.
WITH THAT SERVICE IT DOESN'T MATTER IF THE GRAPHICS CHIP IS DEAD AND ALL THE MOTHERBOARD TRACES ARE DAMAGED WE STILL CAN FIX IT AND KEEP ALL YOUR DATA SAFE (ASK US ABOUT THAT SERVICE IF YOU KNOW YOUR CONSOLE WILL NEED IT). We offer this repair service of your broken PS3 console at a flat rate cost for any of the problems described before. (if there is more than one issue let us know so we can give you an estimate for the extra cost) This service will include the following. Completely detach the system graphics processor from the motherboard (applies to the YLOD and No video output or other video problems including freezing), completely removing the old solder that started to crack and cause bad soldering points, clean the chip and refresh all cold points on it, same procedure will be done to the motherboard, the GPU will be Reballed using leaded solder then it will be reattached in place to the motherboard again. Same reballing procedure will be applied to any particular chip that needs it to fix other problems like HDMI controller chip or firmware chip of the controller board, some controller boards don't have a firmware chip, we still can replace them. Fully clean the system from dust and clear all blocked ventilation holes to reduce system temprature and prevent future overheating. Extracting any disc that got trapped inside your system and you could not eject it out please if there is a disc inside your system don? T try to take the system apart to get it out, I will get it out for you and send it back with your system , that will help reserving your disc and your drive from getting any damage to its mechanical mechanism. For people who suggest that YLOD is caused by a bad power supply , that is very rare , in over 100000 console we repaired we only replaced the power supply less than 30 times, other repair shops will use that to overcharge people, we don't. 99% of the time your console can be repaired without any parts but if your console is one of the other 1% so you will be required to pay for the needed parts and the cost will depend your console's model but you will not pay any extra charge for installing any spare parts, in very rare condition the system would have a bad graphics chip which can be replaced and the part cost will be extra. After more than ten years in the field of game systems repairs and upgrades there is no system that cannot be repaired unless it is electronically dead system which will require replacing the system's main board. BECAUSE EXPERIENCE COMBINED BY TOP OF THE LINE TECHNOLOGY MAKES THE DIFFERENCE.
Consoles with multiple issues will receive an estimate for the total cost of repair and the repair will be performed only if you agree to pay the extra cost. Reballing is a very advanced procedure and require vey highly skilled hands and very advanced machines so if your console has been through a similar repair atempts before we can not grantee the result of the repair or if the graphics chip still alive. If your console has a loud fan or display a message telling you that the console is overheating just add the overheating option to your order, replacing the fan, making holes in the outer case, using an external fan, using the console next to a very cold AC will not fix this issue, its an internal issue in the chips and has to be repaired correctly. In some cases specially if the console is very dusty inside the dust will get into the bearings of the fan and it becomes very noisy even if it runs at low speed and in this case the fan will be replaced at an extra cost. The last three pictures of this listing show how we fix the overheating problem on a PS3.
The pictures that you see are real pictures of our advanced machines and our reballing process, you will not find anywhere else, one picture worth a thousand word. Turn around time is 3-5 days from the day we receive the console.
IF YOUR CONSOLE'S MOTHERBOARD HAS A LIQUID DAMAGE, DOESN'T POWER ON AT ALL, SOMEONE TRIED TO REMOVE THE GRAPHICS CHIP AND ENDED UP DAMAGING THE TRACES ON THE MOTHERBOARD , THE MOTHERBOARD IS RUSTED OR SOMEONE APPLIED FLUX ALL OVER THE BOARD AND UNDER EVERY CHIP AND YOU HAVE VERY IMPORTANT DATA ON THE HARD DRIVE THAT YOU DON'T WANT TO LOOSE , WE HAVE GOOD NEWS FOR YOU, WE STILL WITH ALL THESE DAMAGES CAN FIX YOUR CONSOLE AND SAVE YOUR DATA, JUST ASK US ABOUT THE MOTHERBOARD TRANSPLANT SERVICE , ITS ONE OF THE SERVICES WE ARE THE ONLY PLACE ON EARTH TO OFFER IT AND ITS OUR PROVE THAT WE DO A REAL REBALLING AND THAT NO BODY ELSE IS AS CAPABLE, KNOWLEDGABLE OR SKILLFUL AS WE ARE. For all questions , please use the form included in About Us page. OVER 100000 PS3 CONSOLES HAVE BEEN REPAIRED, LET US FIX YOURS! We Don't claim to be the best in the business simply because we are the best in the business! The item "PLAYSTATION 3 REBALLING SERVICE, LEADED SOLDER, ONE YEAR WARRANTY" is in sale since Tuesday, May 28, 2019.
This item is in the category "Video Games & Consoles\Video Game Consoles". The seller is "hi_tech_repair" and is located in Rancho Cucamonga, California. This item can be shipped worldwide.
MPN: Does Not Apply
Brand: Unbranded