V660 Hdd Evo Hard Drive Degausser-new Machine With Free One Year Warranty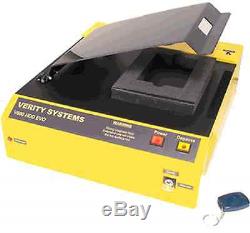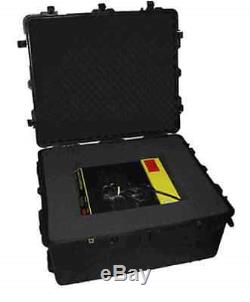 V660 HDD EVO Hard Drive Degausser With Infrared Remote Control. Available on GSA Contract Number GS-02F-0093V. The V660 HDD EVO Hard Drive Degausser is a powerful, high energy table-top degausser especially designed to eliminate all data from computer, laptop, and server hard drives.
The machine will also erase data from high coercivity tape, including LTO, DLT, Super DLT, AIT, and more. The degausser operates at 6600 Gauss strength. NOTE: THIS UNIT REQUIRES A 220 VAC ELECTRICITY LINE. This high energy, bulk degausser is especially designed to erase sensitive information stored on Servo and PC hard drives. Hard Disk Drives The vulnerability of information stored on Servo and PC hard drives is an acknowledged security risk.
Unlike other PC data storage media, the hard drive always stays with the PC. Every time a PC leaves the premises, all the data and company information go with it.
Even if the hard drive breaks down, the storage platters will still contain information that could be read once repaired. That is why security erasure of your drives is essential with the V660 EVO Degausser. The V660 EVO Hard Drive Degausser is an efficient, dependable, and completely safe way of eliminating information from hard drives. The V660 EVO Hard Drive Degausser eliminates the requirement for the operator to handle the drive. As degaussing makes the drive hot and the degaussing operation creates a lot of noise, this unique design makes operating the machine much easier than other table top degaussers.
Operation Hard disc drives are placed on the V660 EVO Hard Drive Degausser within the special adapter, the lid is closed and the degauss button pressed. As hard disk drives are erased in a single pass lasting only 5 seconds, no user intervention is required during the operating cycle.
The operator does not have to turn, spin, or handle the drive in any way during the degaussing cycle. Operator Safety To meet the latest ICNIRP Magnetic Exposure Safety Guidelines, the V660 EVO Hard Drive Degausser can be operated remotely via the infrared remote control. The unit can be locked in the manual or remote operation position by removing the key to prevent possible misuse.
The drive holder accepts any drive which is 5.75 inches in depth, 3.98 inches in width, and. 98 inches in height or less. A very powerful table-top degausser - 6600 Gauss. No need for operator to handle drive during degaussing. FAST 5 second single-pass erase cycle.
Remote control operation from up to 45 feet. Extremely high energy (6600 Gauss) for complete erasure. Table top, easy-to-use ergonomic design. Accepts drives 5.75" deep x 3.98" wide x.
98 inches high or less. Very large data processing departments. Hard disk drive erasure specialists. Please note that hard drives are not reusable after having been degaussed. Additionally, LTO-3, LTO-4, and LTO-5 are not able to be reused after having been erased with this unit. For this unit can be easily ordered through the Website. 5 minutes on, 5 minutes off. 220 VAC; 60 Hz (USA). The item "V660 HDD EVO HARD DRIVE DEGAUSSER-NEW MACHINE WITH FREE ONE YEAR WARRANTY" is in sale since Thursday, February 2, 2012. This item is in the category "Business & Industrial\Test, Measurement & Inspection\Other Test, Measurement & Inspection".
The seller is "datadev3" and is located in San Marino, California. This item can be shipped to United States, Canada, Mexico.
Brand: VERITY
Model: V660 HDD EVO
MPN: ZZ009171