Datagone High Energy Automatic Hard Drive Degausser-new With One Year Warranty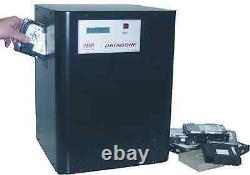 DATAGONE High Energy Automatic Hard Drive Degausser. PLUGS INTO STANDARD WALL OUTLET; SUITABLE FOR OFFICE OPERATION. 10,000 GAUSS PULSE DISCHARGE TECHNOLOGY EXTREMELY FAST--HIGH SPEED 8 SECOND ERASURE CYCLE PORTABLE AND EASILY MOVED TO LOCATION. The DATAGONE High Energy Automatic Hard Drive and Backup Tape Cartridge Degausser is a fully automatic degausser for Hard Discs and Backup tapes. It uses pulse discharge tchnology and is fully processor controlled.
This enables the DATAGONE to offer a complete and secure erase on magnetic media. Media that can be degaussed includes hard drives that use both perpendicular and vertical recording technology and most common backup tape formats, including DLT 1-4, SuperDLT I and II, LTO 1-5, 3592, and 9940 tape cartridges. With erasure cycle times of 8 seconds, the DATAGONE Degausser is ideal for high-volume users who require less operator intervention and automatic operation. Single Pass Fully Automatic Operation. 10,000 Gauss Pulse Discharge Technology.
Erases PC Hard Drives, LTO 1-5, SuperDLT I & II, DLT 1-4, 9940, 3592 and More. Over 250 drives erased per hour. An 8 Second Cycle Time.
Complete Erasure of hard drives and tapes. Processor Controlled operation for Failsafe erasure. Effective on Longitudinal & Perpendicular Hard Drives.
Performance The DATAGONE generates a powerful magnetic field and in less than a second completely erases the complete data from Hard Drives and Backup tapes. Its simple one pass fully automatic operation makes it ideal for businesses where security is of the utmost importance. Secure and Safe Operation With safety in mind and to meet the latest ICNIRP Magnetic Exposure Guidelines, the DATAGONE field duration is less than a second and the magnetic field is designed to be concentrated inside the machine.
Automatic Processing The DATAGONE is a fully automatic, table-top mounted unit. With the degausser powered up, the operator simply slides the hard drive into the aperture on the left hand side of the machine.
The unit senses the presence of the media and the degausss cycle starts automatically. No operator action is required. When the degauss cycle is complete, the hard drive is released and exits from the degausser on the right hand side of the machine. Throughout the entire degauss cycle, the onboard processor monitors the procedure and the progress messages generated by the machine are displayed on the LCD panel.
If the degauss cycle is interrupted for any reason, such as power loss or any operation fault condition, the media is retained in the DATAGONE and the operator is immediately alerted to the interruption in the erasure cycle on the LCD panel. To eject media when the cycle has failed for any reason, the operator only needs to press the reset button. This releases the Hard Drive or Tape and resets the degauss cycle. The operator should then initiate a simple repeat erasure cycle.
The entire erasure process takes approximately 8 seconds. Who Recommends Hard Drive Degaussing? As part of their guidelines for the sanitization of magnetic media, degaussing is required by the following organizations and statutes for hard drives and LTO tapes. These are requirements to meet compliance standards for government mandates that require complete elimination of sensitive information stored on magnetic media prior to re-use or disposal.
National Institute of Standards and Technology (NIST), featuring Guidelines for Media Sanitization: NIST 800-36 and NIST 800-88. Health Information Portability and Accountability Act (HIPAA).
Personal Information Protection and Electronic Documents Act (PIPEDA). California State Senate Bill 1386. Powerful 10,000 Gauss Pulse The DATAGONE produces an 10,000 Gauss electromagnetic pulse that is several times stronger than the read/write heads in a hard drive or tape drive. This makes it more efficient and faster than every software-based erasure program. The DATAGONE also will completely degauss failed or damaged hard drives and tapes, which software programs cannot do.
Easy To Use The DATAGONE is user-friendly and very easy to operate. Simply slide the media into the loading slot on one side of the machine, push a single button, and within eight seconds the media is discharged.
Please view the complete video for details. Recycling Companies needing flexible and moveable machines.
Hard disk drive erasure specialists. 3,5", 2.5" and 1.8 hard disk drives.
Ultrium & Redwood SD-3 tape and cartridges. DLT I, II, III, and IV. LTO-1, LTO-2, LTO-3, LTO-4, and LTO-5. Magstar 3570, 3590, and 3592 plus 9840 and 9940. DDS 1,2,3,4, &5.
DD-2 & DFT 1 & 2. Please note that hard drives and LTO cartridges are not reusable after having been degaussed. Data Devices does offer hard drive erasers which will erase hard drives to "like new" condition and permit them to be reused. Accessories for this unit can be easily ordered through the Website.
115 VAC; 60 Hz ; 9 Amps(USA). 230 VAC; 50 Hz; 5 Amps (Overseas). The item "DATAGONE HIGH ENERGY AUTOMATIC HARD DRIVE DEGAUSSER-NEW WITH ONE YEAR WARRANTY" is in sale since Friday, February 10, 2012.
This item is in the category "Business & Industrial\Test, Measurement & Inspection\Other Test, Measurement & Inspection". The seller is "datadev3" and is located in San Marino, California.
This item can be shipped to North, South, or Latin America.